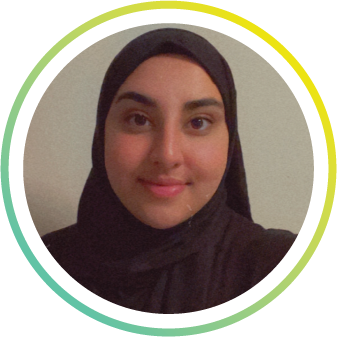 Hello! I'm Faira Hanif.
Born and raised in Amsterdam, but of Pakistani descent.
Since childhood I have spoken three languages; Urdu, Dutch and English.
I also went to the speech therapist for help. I had a language delay and articulation problems.
When I look back now I realize what improvements speech therapy has brought in my life.
I have come so far in life because of one year of speech therapy help and this has motivated me to become a speech therapist myself.
I think everyone who needs speech therapy help should get it.
I love children, get along well with them and if I can help them improve their speech on top of that then I am super happy.
I don't only want to help children, I also want to be able to help elderly people who have, for example, aphasia or other kind of neurological disorders.
That's why I want to specialize in Neurolinguistics after the four-year college degree.
Of course, I still have three years to go before I am officially a speech therapist.
Only, I found it such a shame that I had to wait so long before I could apply my knowledge.
Then TinyEYE came to take a look at my life, they offered me something I couldn't say no to.
I get to work as an Assistant Speech Therapist while still going to school. So this means that I can already apply my learned knowledge and keep learning, this is why I am here.
I am a second year student of the Speech Therapy program at Windesheim University of Applied Sciences in Almere. Last year was the most instructive and fun school year in my life.
I learned a lot of new things. TinyEYE has given me the opportunity to put all this theory into practice and to develop myself further.
I am creative, communicative and very flexible. With these qualities, as a Speech Therapist Assistant I can support my colleagues at TinyEYE well and build a good relationship with my clients. I am confident that in the coming months I will be able to offer everyone the help they need.
Contact Faira?
CALL ME
+31 851 308 167
MAIL ME
faira@tinyeye.eu
Speech therapist student ? Work as a speech therapy assistant.
Are you studying speech therapy and do you already want to work as a speech therapy assistant? Do you love innovation? Are you expressive and fond of children and older people? Then you might be the new speech therapy assistant we are looking for