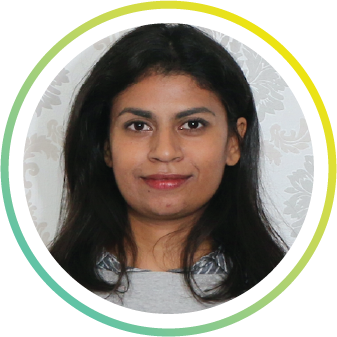 Hello! I'm Shaya Karuppiah.
Nice to meet you! I live in the Netherlands since I was four years old, and I was born in Sri Lanka. You probably haven't heard of it, but it's an island in Asia just below India. They speak Tamil in the North, which is my mother tongue. I also speak Dutch and English. 
I started studying Speech Therapy in 2019 at the Hanze University of Applied Sciences in Groningen. This profession appealed to me, because then you can help people improve themselves by communicating better. I realized that communication is very important in our society, be it young or old. Just think of the ability to create a bond with the people around you. Or the basic need to indicate hunger for babies. Voice, speech & language play a major role.
I used to work as a nursing assistant, while studying nursing. Because of this I developed qualities which I will use as a TinyEYE assistant, such as empathy, being goal-oriented, problem-solving and being a team player in which communication skills are very important! 
I switched to speech therapy, since I find language, speech and voice more interesting and I work with more enthusiasm because of this. 
What impresses me about TinyEYE is that they are involved in several languages. All languages ​​are important, which TinyEYE pays attention to. I hope to help many people through TinyEYE, Dutch, English or multilingual, to improve their language and speech!
Contact Shaya ?
CALL ME
+31 851 301 509
MAIL ME
shaya@tinyeye.eu
Speech therapist student ? Work as a speech therapy assistant.
Are you studying speech therapy and do you already want to work as a speech therapy assistant? Do you love innovation? Are you expressive and fond of children and older people? Then you might be the new speech therapy assistant we are looking for.