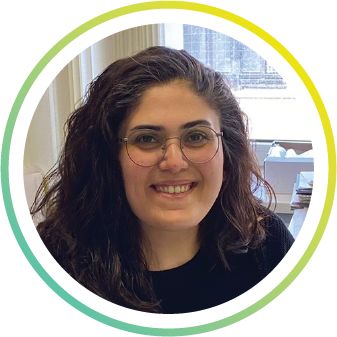 Hello! I am Seda Esersin.
Hello! I am Specialist SLP/SLT Seda Esersin (M.Sc)
Helping people with speech, language and communication problems is more than just a job for me. Because I have a very strong reason to empathize with you! I myself had a speech disorder for the first 23 years of my life and I got therapy and got it out of my life! Now I am here to help everyone, from my little ones who need this service to my respected and sweet elders!
I graduated from Anadolu University, Faculty of Education, Department of Foreign Languages Education, English Language Teaching Program in 2012. After finishing my undergraduate education, I worked as an English teacher between 2012-2013 and started Anadolu University Speech and Language Therapy Master's Program with Thesis in 2013. In 2016, I transferred to the position of Research Assistant and then started Anadolu University Speech and Language Therapy PhD Program in 2017. There are a few months left until the end of my PhD. If we talk about what I did during the doctoral process; In the summer of 2019, I worked as an invited academician at HablaLab (Human Abilities in Bilingual Acquisiton Labaratuary), a bilingual language acquisition and disorders research laboratory affiliated with the University of California, Irvine, for a 3-month period. In 2021, I started working at The Leibniz Center for General Linguistics (ZAS) at which I currently work, and  I am researching the language acquisition journey of multilingual children and the problems they may experience in this journey. I am the author of several book chapters on the assessment and intervention of multilingual children's language skills and disorders, both academically for undergraduate students and as guidance for parents. My areas of interest are language acquisition, language acquisition in bilingual and multilingual contexts and language disorders in bilingual and multilingual contexts, developmental language disorder and language delay. However, I also work on the intervention of acquired language disorders such as aphasia. 
In addition to 400 hours of experience in all speech, language and communication disorders during my education, I have been supervising the clinical course of childhood language disorders for SLP undergraduate students between 2017-2022. 
Emphasizing that the therapy process is affected by many variables, I can accompany you on this journey and guide you to a communication process that you can be more comfortable with.
Contact Seda?
CALL ME
+49 1575 2682020
MAIL ME
sedaesersin@gmail.com
Speech therapist? Join our Dream Team.
Are you a great advocate of speech therapy and love innovation? Are you expressive and fond of children and older people? Then you might be the new TinyEYE online therapist we are looking for.