Safe and
secure.
TinyEYE Europe provides a diverse range of targeted treatments in online speech therapy. For (multilingual) children, but also for adults with speech and language problems. We provide the therapy that is most efficient per client. We do all this through our modern, digital speech therapy software. The advantage of teletherapy? The client has access to a safe learning environment anytime and anywhere. Our homework module makes learning dynamic and entertaining for children, but also for adults and the elderly. In addition to the help we provide, TinyEYE Europe has a coaching program that trains our people to become professional online speech therapists.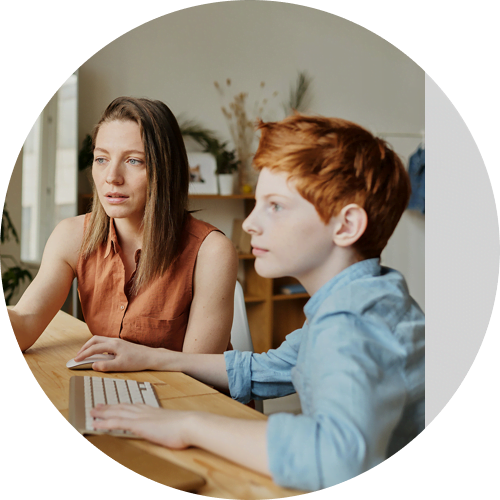 This is how
it works.
We are constantly improving our services. That is why our TinyEYE software has been updated! Our new version of the TinyEYE speech therapy software, Monarch, is a beautiful and easy-to-use program with all the treatment content you need. As a speech therapist, you can give free rein to your creativity in a secure environment and you are in control. Children jump in joy when the speech therapist opens a TinyEYE game and adults also react enthusiastically. As a speech therapist, you are always connected with your client and you can work together in the live environment of the therapy room. Do you want to share your screen or show a YouTube video to your client? This is all possible in the Monarch treatment room. All in one beautiful package and completely modern. Use Monarch for high-quality online speech therapy!
Discover more.
TinyEYE offers more than you are used to
TinyEYE offers more than just speech therapy exercises. In addition to the ability to provide online speech therapy in a responsible and fun way using a digital closet full of games and game sets. TinyEYE's speech therapy software also includes:
✔ A digital file;
✔ An agenda;
✔ A therapy plan;
✔ A homework module that allows clients to practice intensively at home.
You can also use our TinyEYE speech therapy software to create automatically generated reports and share them with a touch of a button.
The homework module from TinyEYE
Regular practice at home is an important condition for successful speech therapy. Practicing this at home is made a lot more attractive by TinyEYE and is easy for the client. The homework module also offers many advantages for the speech therapist:
✔ You can give exercises as homework with a touch of a button;
✔ You have the option to leave messages and (instruction) videos here;
✔ You have insight into the homework that has been done and the frequency of practice.
We believe that through this homework module, clients are more likely to achieve speech therapy goals faster.
What others think about it.
"Working with our renewed TinyEYE system is great! Both my clients and I are very satisfied with how the system works. The quality is amazing!" – Lisette.
"In Monarch, I can see and hear the clients clearly. Everything works very nicely :)" – Nienke. 
"The image and sound work very well, I don't need Skype anymore and that's really nice!" -Valeria.
Start now with TinyEYE.
To work with our speech therapy software, you need a modern computer with a fast internet connection, a headset, and a webcam. In addition, it is essential to sign an agreement with us that enables you to work with TinyEYE. You must first follow one of our training courses.