Offer online speech therapy wherever and whenever you want.
As a TinyEYE speech therapist, you get the opportunity to use your expertise and knowledge to support your client's speech therapy. Thanks to our innovative speech therapy software,  you can offer speech therapy online to your clients, whenever it suits you – and them. You decide when you work and where you work. In short, you will have all the space you need to apply your interests and experience as a speech therapist while using TinyEYE's innovative speech therapy software and the latest treatment methods.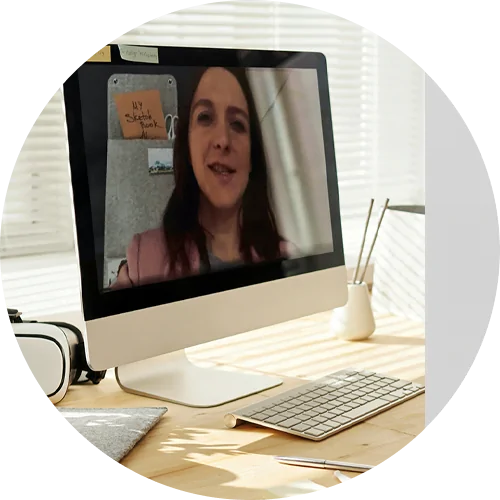 Work with the latest version of our therapy software.
We are constantly improving our services. That's why our TinyEYE software has been updated! Our new version of the TinyEYE speech therapy software, Monarch, is a nice and easy-to-use program with all the therapy content you need. In a secure environment, you can let your creativity run wild as a speech therapist and you can control it yourself. Children jump for joy as the speech therapist opens a TinyEYE game and adults react enthusiastically. As a speech therapist you are always connected to your client and you can work together in the live environment of the online therapy room. Do you want to share your screen or show a YouTube video? All this is possible in the Monarch therapy room. Use Monarch for high-quality online speech therapy!
Join an international online speech therapy network.
Become a speech therapist at TinyEYE
By joining TinyEYE, you become part of an international network of driven online speech therapists. You use TinyEYE's unique speech therapy software,  which allows you to provide your clients with the best quality speech therapy online. Together we build an international network full of expertise, innovation, and technology. This leads to  a new era for speech therapy.
TinyEYE's online speech therapy is for everyone.
TinyEYE Europe offers a wide range of targeted treatments in online speech therapy. For (multilingual) children, but also for adults with speech and language problems. We adapt our therapies in the  most efficient way for each client. All this is possible through our modern, digital  speech therapy software. The advantage of  online speech therapy? The client has access to a safe learning environment anytime, anywhere. Our homework module makes learning dynamic and entertaining for children, and also for adults and the elderly. TinyEYE Europe also has a coaching program that helps us train our team to become professional online speech therapists.
What others think about it.
"Working with our renewed TinyEYE system is great! Both my clients and I are very satisfied with how the system works. The quality is amazing!" – Lisette.
"In Monarch, I can see and hear the clients clearly. Everything works very nicely :)" – Nienke. 
"The image and sound work very well, I don't need Skype anymore and that's really nice!" -Valeria.