Safe and easy.
All TinyEYE sessions are secured. You have your own password that gives you access to the software and the homework backpack. All TinyEYE speech therapists are quality registered paramedics and work according to the latest standards. Speech therapists who work with TinyEYE's speech therapy software make speech therapy more fun and complete for the child, because they can use the wide range of interactive practice games that are included in TinyEYE every practice session. The speech therapist selects games that are appropriate for the child's age and perception of the world and practice together in a playful way. This makes speech therapy fun and unique for children.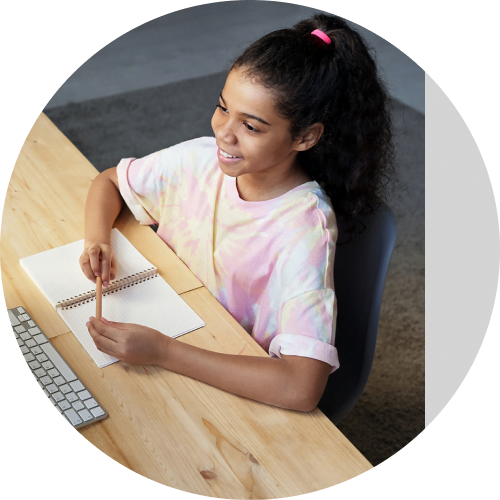 Speech therapy for children
You will receive a personal login code and you and your child log in to the software. Here you meet the speech therapist in a live audio and video connection. Within the digital environment of TinyEYE you will find a series of games, adapted to the level and needs of your child. Your child plays these games together with the speech therapist and in this way works on his speech and language development. After each session of 15 to 20 minutes, the speech therapist gives your child tailor-made games and homework in his or her backpack. With the homework module and online speech therapy exercises, you and your child can practice at home, in a playful and fun way. The exercises are provided with written instructions and video messages from the speech therapist. The session notes of the therapy are made available to you after each session. This way you are always aware of the progress of your child's therapy.
This is what you also should know.
Preverbal speech therapy
"Preverbal" means "mouth functions before speech and language have started." Think of the basic needs of a child: food and drink. If this doesn't happen naturally in a child, feeding can become a struggle for parents. TinyEYE's preverbal speech therapist works with (very) young children and their parents who experience difficulties in this phase.
Problems that you can encounter as a parent
"If I give my child a bite of solid food, it will get stuck in the cheek pouches"
"My child doesn't want to eat at night anymore"
"My child has to gag every time I give bread"
"My child is not swallowing properly while breastfeeding"
Suitable for young children
TinyEYE speech therapists support language development in children of kindergarten age, and toddlers. For concerns about the development of speech in babies our online speech therapy offers the perfect solution. TinyEYE speech therapists offer results-oriented speech therapy, giving assistance when there is a language delay and speech therapy for swallowing problems. In addition, the preverbal speech therapist helps parents with children who experience difficulties eating or drinking.
At TinyEYE we can provide online consultations where the speech therapist uses the webcam to watch an eating or drinking situation in the home environment. Then she can give tips and advice to improve that situation. Parents can apply the tips and advice at home and another consultation is scheduled to evaluate progress.
Want to receive more information about what our online speech therapy service can do for you? View and download our brochures .
Is speech therapy for children covered by medical insurance?
Online speech therapy for children is in most cases fully reimbursed by your health insurer. 100% for children up to 18 years old. Our speech therapists can help you, if you want, to find out more about the reimbursements by your health insurer.
Also for adults?
Adults and the elderly can also be treated with TinyEYE. We have specialized speech therapists who can help you. Read more here about speech therapy for adults and the elderly.
Start now with TinyEYE.
Do you want to register yourself or someone else, for example your child or partner, for online speech therapy through TinyEYE Europe? You can register through the digital registration form. We will contact you soon.
Speech therapy for children
When practicing speech therapy with a child, it is important to stimulate and motivate children by offering fun exercises. Therefore,  we practice speech therapy with children in a playful way to improve their speech skills. The committed TinyEYE speech therapists ensure that your child not only learns to communicate better but also enjoys it. And again, with TinyEYE therapies start right away, as we have no waiting list!
Online speech therapy for toddlers
To get ahead of language and speech problems, speech therapy for toddlers is a helping hand. This makes it more likely that toddlers will learn to speak better. Especially at a young age, it is not always easy for children to express themselves verbally. Speech therapy for toddlers, therefore, focuses on developing communication skills by practicing the production of sounds and words in a playful manner.
When is speech therapy necessary?
It varies from situation to situation when speech therapy is needed for a child. Therefore, if speech problems are suspected of developing or if there is an obvious communication or language delay, it is wise to begin speech therapy early. This will allow the child's problems to be addressed. By the way, at TinyEYE you can also get treatment immediately, as we do not have waiting lists. If you are looking for speech therapy for your child, you can contact us directly to start teletherapy as soon as possible!
Entitled to speech therapy reimbursement?
Are you curious about speech therapy reimbursement for your child? Then we have good news: in most cases, our online speech therapy is fully reimbursed by health insurance companies. Whether it is fully reimbursed depends on the basic package of your health insurer. Would you like to know if our online speech therapy for your child is partially or even fully reimbursed? Then we recommend contacting your health insurance company or one of our logopedists.
Need a referral for speech therapy?
Before starting treatment, a referral for speech therapy for your child is no longer necessary in most cases, because we can submit the treatment to health insurance companies. As a result, you can almost always use our team of speech therapists directly, without the need for a referral for speech therapy for your child. Another big advantage is that we have no waiting list: you can sign up right away!