I am a …
Speech therapy for children
Are you concerned about your toddler's language development, or do you have an older child with a speech or language delay? TinyEYE offers children of all ages the opportunity to receive speech and language therapy, in the comfort of their home environment or at school. TinyEYE telepractice supports and ensures good language development in children. With TinyEYE's online speech therapy service, your child and the speech therapist connect live, which means traveling is no longer necessary. All you need is a laptop with a webcam and internet and we take care of the rest!
Speech therapy for adults
TinyEYE speech therapy is at your service for the treatment of speech and language difficulties in children, (young) adults and the elderly.  TinyEYE's online speech therapy service allows you to receive live online speech therapy in the comfort of your own home environment. This makes traveling to a speech therapy practice no longer necessary. What do you need for TinyEYE? A computer with webcam and Wi-Fi. We take care of the rest! 
Speech therapy for schools or institutions
School-age children can face all sorts of difficulties in language development and communication. Some children have:
Difficulty with the pronunciation of sounds and words;

Delayed

language development

or language disorder;

Vocal problems or stuttering; 
All this can have a major impact on the child's school performance and self-confidence. TinyEYE offers schools and institutes
online speech therapy. The language specialists and speech therapists offer the online TinyEYE sessions at school so that the children can enjoy language development support in their learning environment. The e-assistant helps the younger children during a session with logging in and operating the mouse. The sessions are entirely in keeping with the experience and level of the child. Classroom themes are used during the speech therapy sessions and tailored support is provided to solve these difficulties for the child. 
Become a speech therapist
at TinyEYE Europe.
TinyEYE Europe gives you, as a professional speech therapist, the opportunity to run your own online speech therapy practice. As a speech therapist affiliated with TinyEYE Europe, you decide when you want to work and from where. In short, you get all the space you need for your passion and 100% online experience as a speech therapist. Together we build an international network of experts like you, that heralds a new era for speech therapy.
The TinyEYE software. This is how TinyEYE supports you as a speech therapist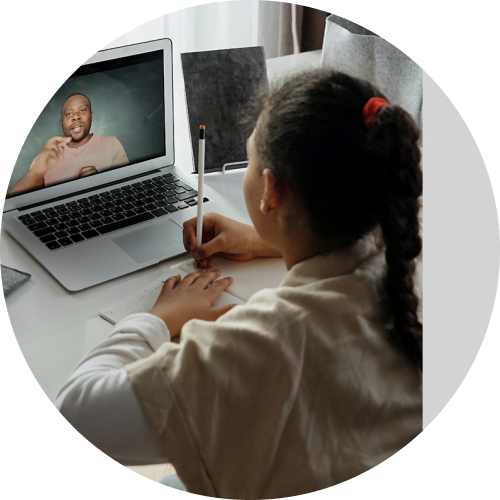 TinyEYE Europe.
Pleased to meet you.
In her work as a speech therapist, Elisa Gielen saw that more and more waiting lists started to arise within speech therapy. She also noticed problems in adherence and homework among clients. Together with engineer Paul Jenkins she searched for a solution, which they eventually found in Canada. In 2009, Paul and Elisa were introduced to Marnee Brick and her brother Greg Sutton, the founders of TinyEYE Canada. In Canada, it is very common for speech therapists to work via online speech therapy (telelogopedics) and the approach of TinyEYE Canada is very successful in meeting the needs of the population…
Or watch the introduction video
B.B. says
FATHER
Being able to have my daughter's development of her Dutch speech- and language skills stimulated while living abroad in Italy, through fun online face-to-face interaction, education and games - great that this is possible!
K.F. says
MOTHER
Living in a foreign country, our children only speak Dutch with family members. This makes our use of the Dutch language rather one-sided. Mila helped us identify articulation and vocabulary problems. Our son now has a larger Dutch vocabulary and pronounces his words much more clearly.
Elke says
CLIENT
My pinched voice made me difficult to understand for others who thought my voice was strange. This made me feel more and more insecure. I was looking for a solution and I found it at TinyEYE's online speech therapy. I have really been helped. Highly recommended!
With the TinyLanguageTool
a child's language development delay is quickly spotted!
We work with speech therapists who use the latest method to detect language deficits: the TinyLanguageTool. TinyEYE Europe offers all certified schools a speech therapy scan using our unique TinyLanguageTool. With the TinyLanguageTool, every child at primary school can be screened online and the online speech therapist can indicate within 12 minutes whether there might be a language development delay.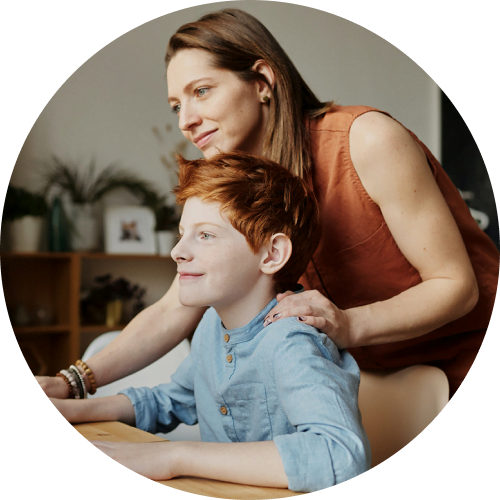 Online speech therapy
When solving speech problems or solving a language delay, TinyEYE's online speech therapy is an effective way with a large number of advantages. First of all, we have a team of professional speech therapists who work in English as well as in other languages among which  Dutch, Spanish, Turkish, French, German, Afrikaans, and Polish.  In addition, with our online speech therapy you do not have to join a  waiting list,  you will be helped immediately!
TinyEYE online speech therapy
With the versatile and targeted TinyEYE online speech therapy, you are assured of an effective approach to solve problems with language and speech development. Another advantage of our speech therapy is that you can do this form of speech therapy wherever you want! For TinyEYE online speech therapy, all you need is a computer or laptop with a webcam and internet connection. This means that you can receive the services of our speech therapists at home, but also when on holiday or elsewhere outside the home!
Online speech therapy without  waiting lists
At TinyEYE you also have the great advantage that you can come to us for online speech therapy without having to join a waiting list! If your child or yourself has problems with speech or language, you can be helped immediately without having to wait weeks or months for a place to become available. Important for residents in the Netherlands with a Dutch medical insurance: We are also affiliated with almost every health insurer in the Netherlands, which means that in almost all cases you are entitled to reimbursement for speech therapy or even fully reimbursed. Not covered by Dutch medical insurance ? Contact us to enquire about our tarrifs.  Do you have questions? In that case, feel free to contact us!