Easy and secure.
The security of you and your personal data is important to us. Therefore, all TinyEYE sessions are encrypted. You will receive your own password that gives you access to the speech therapy software and the homework backpack. All TinyEYE speech therapists are quality registered paramedics and work according to the latest standards.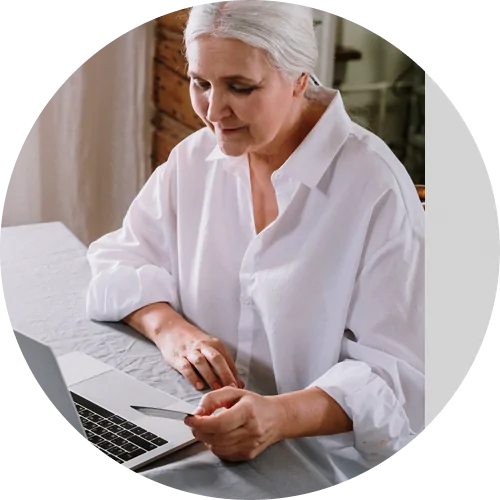 This is how speech therapy works for adults.
TinyEYE makes collaboration and communication with the speech therapist easy. Compare it to speech therapy in a practice: with TinyEYE you also communicate with each other and you see each other on full screen. Sign in with your personal login details to connect with your speech therapist. The speech therapist helps you progress during every session by using all kinds of exercises.
Speech therapy for adults helps.
Speech therapy in your own environment
Have you had a stroke or are you suffering from a chronic illness? Then you probably have weekly visits with the physiotherapist, occupational therapist, or other appointments. Traveling to your specialist can be time-consuming and tiring. TinyEYE is there to help and relieve you of this. Our speech therapy software ensures that you can receive speech therapy in the comfort of your own home environment.
Want to receive more information about what our online speech therapy service can do for you? View and download our flyers.
Will speech therapy be reimbursed?
Speech therapy for adults is in most cases reimbursed by health insurance companies. Take into account that you might have to contribute to the costs. Our speech therapists are happy to help you find out the fees applied by your health insurance.
Start now with TinyEYE.
Do you want to sign up for online speech therapy with TinyEYE Europe? Please do so via the digital registration form. We'll get in touch with you as soon as possible. 
Adult Speech Therapy at TinyEYE
Whether you're facing speech challenges due to medical conditions like a stroke or seeking to enhance your communication skills later in life, our speech and language lessons for adults come highly recommended. The beauty of TinyEYE's services is that you can access them right from the comfort of your own home, eliminating the need for travel, particularly helpful if mobility is an issue. We're dedicated to addressing a wide range of speech problems that adults may encounter, including difficulties with articulation. Plus, with no waiting lists, you can reach out to us directly to kickstart your journey to improved communication.
Engage in Effective Speech Therapy Exercises
Our digital speech and language therapy exercises for adults empower you to choose when and where you'd like to begin your journey towards enhanced oral communication skills. Each exercise is thoughtfully designed to gradually alleviate speech and language issues or help you better manage them. What's more, our speech therapy exercises for adults are available not just in Dutch, but also in English, Spanish, Turkish, French, German, Afrikaans, Arabic, Farsi, Polish, and Russian. The power to enhance your communication is in your hands.
Reimbursement for Adult Speech Therapy
Receiving reimbursement for adult speech therapy is typically a viable option. TinyEYE maintains contracts with all major Dutch health insurers to facilitate this process. However, the specific reimbursement you qualify for hinges on your insurance coverage and individual circumstances. If you're uncertain or have inquiries regarding adult speech therapy and the reimbursement process, please don't hesitate to reach out to us. Our online speech and language therapists are ready and eager to assist you!
When is Adult Speech Therapy Necessary?
Identifying when adult speech and language therapy becomes necessary can be somewhat challenging. However, it often revolves around difficulties in oral communication. You may be grappling with issues such as stuttering or articulation problems. Fortunately, with our team of online speech therapists, you can swiftly and effectively address or even resolve these challenges. The suitability of adult speech therapy depends on the severity of your concerns. We encourage you to contact us for more information and guidance tailored to your specific needs.