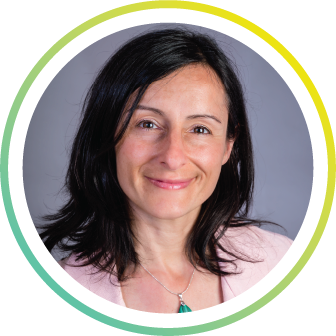 Hello! I'm Ana Martin.
I am Spanish and I am a graduate in Speech Therapy.
From an early age I was attracted to foreign languages and decided to leave Spain and live in England where  I stayed for more than 5 years. In 2008 I moved to Brittany in France with my husband and this is where I currently live now.
Moving to two new countries allowed me to learn English and French fluently and today I have two children, aged 9 and 7, who are trilingual. We use all three languages ​​every day. The children speak English with their father, Spanish with me and French at school and with their neighbours and friends.
I am very happy with my personal journey, because it has given me a very good insight into the challenges that patients encounter whilst communicating.
I love working with both children and adults. The satisfaction of successfully supporting a client to resolve their difficulties in communicating by speech or written word; and seeing the quality of their lives improve after such a life changing event as a stroke or neurological disease is what motivates me.
We all have the right to speech therapy support that will help us to continue living our lives happily and fully with our friends , family and local communities.
A good speech therapist is patient and has the ability to listen to a person in their entirety. In other words, he is able to understand and study all linguistic and communicative aspects of his language as a whole. For example, body language is closely related to breathing, but also to a person's voice and speech. Some disorders, such as stuttering or voice disorders, sometimes find their causes in psychological disorders.
The speech therapist must pay attention to all these points in order to make a correct diagnosis. In addition, the ability to empathize with the patient is very important in order to find together the best therapy adapted to the patient's needs.
My professional and personal experience has allowed me to develop and improve all these human qualities which are very important for my work as a speech therapist.
The profession of speech therapy allows us to work with many different people, of different ages, who have communication problems due to multiple disorders and pathologies, whether organic (cleft lip or palate) or functional or neurological.
I have worked with French speech therapists in:
– The hospital environment: (diagnosis and treatment of myo-functional disorders or swallowing disorders, laryngectomies, aphasic disorders and disorders of voice, speech and language in neurodegenerative diseases);
– Re-educational centers (treating autism and intellectual disability)
– Private practice (treating oral and written language disorders).
I am highly motivated because I now have the opportunity to work professionally in Spanish and French with TinyEYE and to be in touch with more people and make speech therapy online reachable to all.
Contact Ana?
CALL ME
+31 851 301 502
MAIL ME
ana@tinyeye.eu
Speech therapist? Join our Dream Team.
Are you a great advocate of speech therapy and love innovation? Are you expressive and fond of children and older people? Then you might be the new TinyEYE online therapist we are looking for.