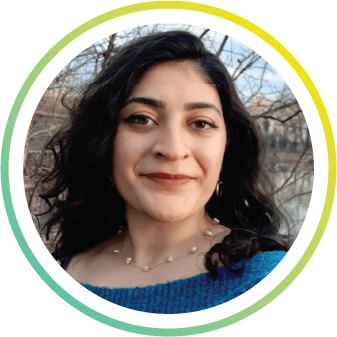 Hello! I am Ezgi Berfin Gökalp.
Hello! I am Ezgi Berfin Gökalp.
I live in Turkey and I am one of those lucky people that have the opportunity to do their job with love. I graduated from Anadolu University, which is the lead Speech and Language Pathology area in Turkey. I have participated and organized in volunteering and awareness projects, such as The Voice in Me Project of Sosyal Ben (Social Me) Association and the Speech and Language Pathology Student Working Group. In 2021, I got the chance to do an internship in Cologne, Germany and ever since I have had a special interest in bilingualism. Under the authority of Anadolu University Speech and Language Research and Practice Center (DİLKOM), I have offered therapy services to those who have difficulties in speech, language,aphasia, speech sound disorders, swallowing and fluency and after completing my internship process I have graduated.
I have participated in trainings of DIR Floortime 101, Turkish Test of Early Language Acquisition (TEDİL), Turkish Test of School Age Language Development (TODİL) and Palin PCI – Parent Child Interaction Therapy.
I wish to help my clients using my academic and clinical experiences.
I can define my character as cheerful, helpful and responsible. I love experiencing life from different angles and listening to different lives. I believe every person is unique, which is why every therapy process is also unique.
Speech and Language Therapy is rather a new career in Turkey so not everyone has the opportunity to access therapy services. Turkish-speaking therapists are not high in number and not everyone can access a Turkish-speaking therapist around the world. This is why I
believe TinyEYE Europe is a wonderful opportunity for those that are in need of therapy services.
I am happy to provide therapy services to those who need it in Turkish and English, especially to bilingual individuals, with TinyEYE Europe.
Contact Berfin?
CALL ME
+90 505 632 12 97
MAIL ME
ezgiberfingokalp@gmail.com
Speech therapist? Join our Dream Team.
Are you a great advocate of speech therapy and love innovation? Are you expressive and fond of children and older people? Then you might be the new TinyEYE online therapist we are looking for.