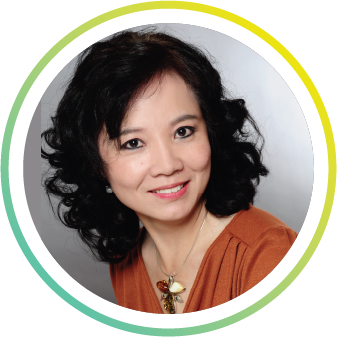 Hallo! I'm Jane Burmeister!
I am a qualified English-speaking speech and language therapist registered with the Health and Care Professions Council, the UK. Born and bred in Singapore, I am effectively bilingual in English and Chinese (Mandarin) as my second language. Hence, I also provide speech therapy services in Mandarin. I have lived and worked in Australia, Malaysia, China, the UK and Germany.  Based permanently with my family in Germany over the last 13 years, I have a moderately good working knowledge of the German language.
I graduated with a Bachelor (Hons.) in Mass Communications and Economics from Australia and a Master of Business Administration (MBA) from Singapore. Given my educational background, I have a dual career profile as a researcher in global mobility (HRM) and as a speech and language therapist. My interest and journey in speech therapy began after volunteering myself in community work at a special needs school and obtaining a Diploma in Educational Studies – Learning Disorders Management and Child Psychology in Singapore. In 2009, I decided for a mid-career switch to pursue a Master of Science (MSc) in Speech and Language Therapy from the University of Reading, UK. I have received valuable trainings and work stints in both adult learning disability services focusing primarily on stroke patients with aphasia, dysarthria and apraxia and working closely with pre-school and school-aged children as well as teenagers with Down Syndrome, ASD, Asperger Syndrome, Cerebral Palsy, and clients with challenging behavior. My caseloads in Germany are mainly English-speaking children and teenagers who are native speakers of English with predominantly phonological and language difficulties, central auditory processing difficulty, children with language delay, and poor attention and listening skills.
I believe the fundamental criteria as a speech therapist is to carry out one's duties with integrity and act from a position of commitment to protecting the vulnerable. I look forward to continually seeking ways to improve the quality of care for my clients by incorporating evidence-based practice in my speech therapy work. Personally, I believe that life is all about showing empathy and doing good to contribute our share in society. I am grateful and blessed that I could fulfil my wish as an allied healthcare professional.  During my free time, I enjoy reading, whipping up a good meal, singing karaoke with my teenage daughters and weather permitting, taking walks with our Labrador in the Bavarian Forest.
Contact Jane?
CALL ME
+49-1708218891
MAIL ME
jane@burmi.org
Speech therapist? Join our Dream Team.
Are you a great advocate of speech therapy and love innovation? Are you expressive and fond of children and older people? Then you might be the new TinyEYE online therapist we are looking for.