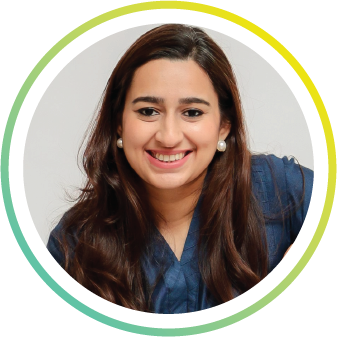 Hello! I'm Ifrah Shah.
Assalamualaikum and Hello,
I am Ifrah Shah, a Speech and Language Therapist by profession, a mom of one, and a private SLT running clinics Online and in person. I  believe in bringing out the best in humans by making them functionally independent individuals using verbal and non-verbal communication. Together I feel we can make a difference in someone's quality of life!
For those of you who want to know me further, I have a Degree in Speech-Language Therapy, working as an independent therapist since 2013. Being a part of different organizations as their primary and secondary speech-language therapist has helped me develop a sound understanding of the sensitive nature of cases and the families, to make it better I acquired a diploma in Multirehabilitation of Special Needs children in 2022.
I've done my training in SCERTS and DIR Floortime 101, being the 1st Pakistani PECS Practitioner since 2015, my expertise lies in Autism, Stuttering, Developmental delays, Speech sound error correction, play therapy, group therapies, and PECS.
Affiliations
ASHA International Affiliate Member (Membership ID: 14478049) Executive Member Speech and Hearing Association of Pakistan.
Co-founderof Move and Speak Inclusive Centre
Consultant at SLT Centre for Growing Minds (ABA-based Clinic)
School Speech Language Therapist at The Learning Tree School
Contact Ifrah?
CALL ME
+91 318 2294404
MAIL ME
shahifrah32@gmail.com
Speech therapist? Join our Dream Team.
Are you a great advocate of speech therapy and love innovation? Are you expressive and fond of children and older people? Then you might be the new TinyEYE online therapist we are looking for.