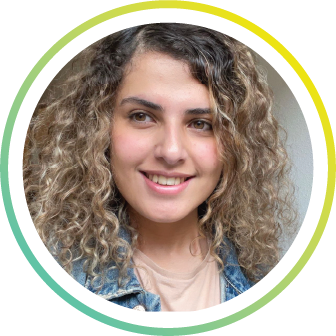 Hello! I'm Sham Sarbast.
My family and I moved to the Netherlands when I were three years old. I am from Kurdish descent. From a very age I've been speaking multilingual: Kurdish (Sorani), Dutch and English. As I got older, I realized that speech and languages were very interesting to me.
Much later I decided to study for Teaching Assistant. I stood in front of a classroom, and it was a pleasant time as a teacher for children of kindergarten age. What I liked most about this time was the one-on-one contact I had with a student. We would playfully practice with the Dutch language. There was a speech pathologist working at that school. After monitoring the therapist, I knew for certain that, I also wanted to this job. In 2017 I received my diploma for teaching assistant, and I chose to keep on studying.
Therefore I am currently studying for speech and language pathology in Groningen. I am a second-year student. The subject ''multilingually" appeals the most to me. This is because I have been raised multilingually.
The Kurdish and Arabic language have a lot of similarities and that is why I will start the course 'Arabic language and culture'. I find it interesting to do research on the differences of the two languages.
Communicatively I am very strong, besides that I have a sense of humor and I am very flexible. These qualities help me to bond well with clients and help them as much as possible. As a speech and language therapist assistant I can offer support that is necessary within the digital world of TinyEYE
Contact Sham ?
CALL ME
+31 851 308 160
MAlL ME
sham@tinyeye.eu
Speech therapist student ? Work as a speech therapy assistant.
Are you studying speech therapy and do you already want to work as a speech therapy assistant? Do you love innovation? Are you expressive and fond of children and older people? Then you might be the new speech therapy assistant we are looking for.