Secure and easy to use
All TinyEYE sessions are secured. You have your own password that gives you access to the software and the homework backpack. All TinyEYE speech therapists are qualified registered paramedics and work according to the latest standards. Speech therapists who work with TinyEYE's software make speech therapy more fun and relatable for the child, because they can use the wide range of interactive  games that are integrated into every online TinyEYE session. The speech therapist selects speech and/or language games suitable for the child's age and level and they practice together in a playful way. This makes speech therapy fun and unique for children.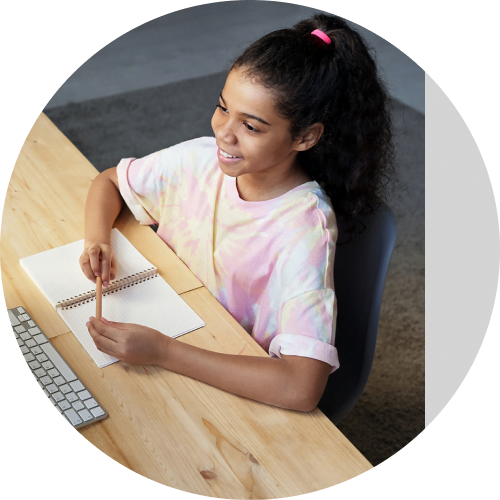 Speech therapy for children.
You will receive personal login credentials and you and your child login to the TinyEYE software. That is where you will meet the speech therapist with a live audio and video connection. Within TinyEYE's digital environment you will find a series of games, adapted to the level and needs of your child. Your child plays these games together with the speech therapist and in this way works on the speech and language development in a playful way. After each session of 15 to 20 minutes, the speech therapist adds the tailor-made games and homework exercises to the digital backpack. With the homework backpack and online speech therapy exercises, you and your child can practice at home, in a fun and interactive way. The exercises are provided with written instructions and video messages from the speech therapist. After evey live online session, the speech therapist's notes are also made available to you so you can follow your child's progress.
What you should also know:
Pre-verbal speech therapy
"Pre-verbal" refers to "non-verbal communication and oral functions before a child starts speaking." This includes primarily;  eating and drinking and the non-verbal communication that is needed while feeding a child.  If this doesn't happen naturally, feeding can become a struggle for parents. TinyEYE's pre-verbal speech therapist works with (very) young children and their parents who experience difficulties in this phase.
Problems that you can encounter as a parent
"If I give my child a bite of solid food, it gets stuck in the cheek pouches and my child doesn't want to swallow it."
"My child refuses to eat in the evening."
"My child retches every time I give him bread."
"My child has difficulties swallowing milk during breastfeeding."
Suitable for young children
TinyEYE speech therapists support language development in kindergarten age children and toddlers. For concerns about the development of speech in babies our online speech therapy offers the perfect solution. TinyEYE speech  therapists offer result-oriented speech therapy, giving assistance when there is language delay and speech therapy for swallowing problems. In addition, the pre-verbal speech therapist helps parents with children who experience difficulties eating or drinking.
At TinyEYE we can also provide online consultations in which the speech therapist uses the webcam to watch an eating or drinking situation in the home environment. Then she can give tips and advice to improve such situations. Parents can apply the tips and advice at home and another consultation is scheduled to evaluate the progress.
Want to receive more information about what our online speech therapy service can do for you? View and download our brochures .
Is speech therapy for children covered by medical insurance?
Online speech therapy for children is in most cases fully reimbursed by your health insurance. 100% coverage for children up to 18 years old. Our speech therapists can also help you find out more about the policies of your health insurer.
Also for adults?
TinyEYE also provides treatment for adults and the elderly. We have specialized speech therapists who can help you. Read more here about speech therapy for adults and the elderly.
Start now with TinyEYE.
Do you want to register yourself or someone else, for example your child or partner, for TinyEYE online speech therapy? You can register via the digital registration form. We will contact you as soon as possible.