Easy and secure.
The security of you and your personal data is important to us. Therefore, all TinyEYE sessions are encrypted. You will receive your own password that gives you access to the speech therapy software and the homework backpack. All TinyEYE speech therapists are quality registered paramedics and work according to the latest standards.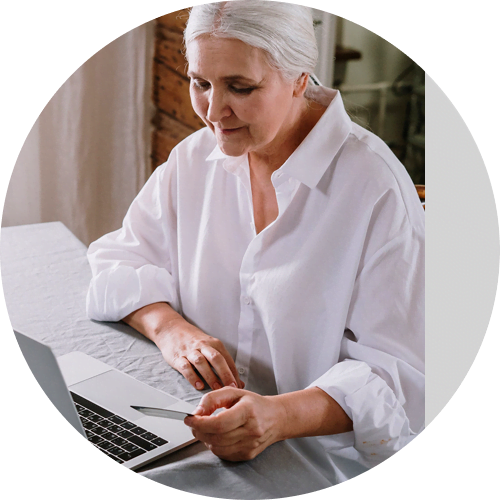 This is how speech therapy works for adults.
TinyEYE makes collaboration and communication with the speech therapist easy. Compare it to speech therapy in a practice: with TinyEYE you also communicate with each other and you see each other on full screen. Sign in with your personal login details to connect with your speech therapist. The speech therapist helps you progress during every session by using all kinds of exercises.
Speech therapy for adults helps.
Speech therapy in your own environment
Have you had a stroke or are you suffering from a chronic illness? Then you probably have weekly visits with the physiotherapist, occupational therapist, or other appointments. Traveling to your specialist can be time-consuming and tiring. TinyEYE is there to help and relieve you of this. Our speech therapy software ensures that you can receive speech therapy in the comfort of your own home environment.
Want to receive more information about what our online speech therapy service can do for you? View and download our flyers.
Will speech therapy be reimbursed?
Speech therapy for adults is in most cases reimbursed by health insurance companies. Take into account that you might have to contribute to the costs. Our speech therapists are happy to help you find out the fees applied by your health insurance.
Start now with TinyEYE.
Do you want to sign up for online speech therapy with TinyEYE Europe? Please do so via the digital registration form. We'll get in touch with you as soon as possible.